The Mega Millions jackpot for 11/08/19 is $145 million, and listed here are the figures.
First Five: 03-04-10-39-58
Mega Ball: 14
Megaplier: 3x
Tonight's 11/08/19 jackpot was $145 million, with a cash value option of $97.6 million. The entire jackpot might have elevated with respect to the quantity of tickets offered round the country before the drawing.
The figures on Tuesday (11/05/19) were: 02-09-24-49-54 having a Mega Ball of 19. The Megaplier was 3x.
There wasn't a grand prize winner, nor any second-prize winners.
There were been nine tickets sold that matched four of the five white-colored balls and also the Mega Ball for the $10,000 third prize. One of the winners also purchased the Megaplier for an additional $1 for third-prize winnings of $30,000.
The last Mega Millions jackpot won was worth $227 million (on 09/24/19) and sold in Cedar Park, Texas, a suburb north of Austin. The winner, from nearby Leander, came forward to claim the prize but wished to stay anonymous.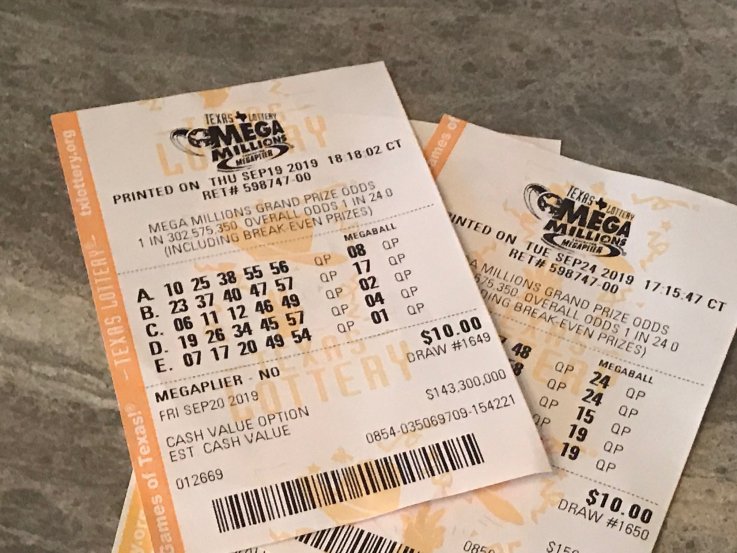 Mega Millions is a multi-state lottery game with drawings every Tuesday and Friday night, and is certainly one of America's two most popular lottery jackpot games. Mega Millions jackpots start at $40 million, along with other prizes ranging from $1 million to $2 million, or even higher with a Megaplier. Tickets are $2 per play, and the likelihood of winning the jackpot is one in 303 million. You can check your Mega Millions tickets here.
Powerball is the other multi-state lottery game, and its jackpots also start at $40 million. Its drawings occur at 11 p.m. ET on Wednesday and Saturday nights. You can check your Powerball tickets here.
The prior Mega Millions winning jackpot ticket was for that 07/23/19 drawing of $168 million. That ticket was offered at Brookside Market & Deli in Exeter, NH. It was New Hampshire's first winning jackpot ticket for Mega Millions. The cash option for that prize was $101.9 million.
The previous jackpot win, worth $522 million, was the seventh-largest Mega Millions jackpot ever. The ticket was sold on June 7, 2019, in North Park, California, at Sorrento Deli Mart. The market also received a bonus of $1 million for selling the winning ticket. That million comes from the California Lottery and is not taken from the winner's grand prize.
Winners in California have 180 days in the date from the drawing to claim their winnings.
Here are the 10 largest Mega Millions Jackpots up until now:
Amount/Date/Winning Tickets
$1.537 billion 10/23/2018 1-SC
$656 million 3/30/2012 3-IL, 1-KS, 1-MD
$648 million 12/17/2013 2-CA, 1-GA
$543 million 7/24/2018 1-CA
$536 million 7/8/2016 1-IN
$533 million 3/30/2018 1-NJ
$522 million 6/07/2019 1-CA
$451 million 1/5/2018 1-FL
$414 million 3/18/2014 2-FL, 1-MD
$393 million 8/11/2017 1-IL
A version of this story originally appeared here.
For instant local lottery results, and to play the lottery online, visit https://play.lottery.com.